Context and objectives
"Health data" is a generic term that refers to a wide range of data types that have a common feature: they inform about the health status of an individual or a population. Such data can be found in multiple sources scattered around the healthcare system.
The variety of health data types and sources, combined with the complexity in identifying and evaluating them, motivated the creation of this report by TechToMed.
"International benchmark of key health data sources" is the first report to map and assess the most important sources of health data in the world.
The objectives of this study are:
Map and assess the different sources of health data worldwide ;
Identify key use cases and trends based on these data sources ;
Propose recommendations to healthcare stakeholders in their health data strategies.
What you will find in this study
A complete overview of all data types and sources with assessments of their specificity, their consistency, their comprehensiveness, they level of standardization, their interoperability and their accessibility.
Top 10 trends in health data worldwide illustrated by facts and figures.
An in-depth description, analysis and evaluation of 4 main categories of health data sources: national databases, electronic health records, cohorts and real-world databases in an international scale.
An overview of international data protection and security frameworks including international interoperability standards.
5 of the most important use cases in health data: the European digital single market, public health monitoring with a focus on Covid-19, personalized medicine, oncology research and pharmaceutical development.
The methodology is based on desk research :
Scientific publications
Specialized journals
Websites from institutions, corporations and startups
Studies and institutional recommendations
Identify the perimeter of health data and key international trends
Study the definition of "health data" to define a perimeter for the study.
Identify and synthesize the different types and sources of health data, with their strengths and weaknesses.
Identify and synthesize 10 trends in health data to anticipate the evolution in key health data sources globally
Map national and international health databases
Select 4 types of key data sources that present the following criteria:
International experience with these data sources ;
Large international spread ;
Known and used by key healthcare stakeholders ;
Of interest given the previously identified trends
Select 4 types of data sources were selected in this study :
Public national databases;
National Electronic Health Records systems;
International cohorts;
Real-World Data databases.
For each type of data source, identify the countries with the following criteria :
High volume of information available;
Geographical representativeness;
Technological maturity.
Compare countries for each type of data source.
Identify key health data use cases
Identify the initiatives and projects making use of large volumes of health data.
Select the initiatives that rely of the data sources previously identified and in accordance with the trends presented in part 1.
Identify the key stakeholders involved in these use cases, their strengths and their weakness.
Assess the spread of these use cases at an international level by mapping initiatives in key countries.
Perimeter and trends in health data (Pages N°-35)

Définition and health data types
Trends in health data

Global health data sources map (Pages N°-78)

National databases
National Electronic Health Records
International cohorts
Global Real-World Data databases

International data protection and security framework (Pages N°-99)

Patient perspective on data sharing
International policies
International health data standards

Health data use cases (Pages N°-127)

The European Digital Single Market
Public health and health system performance monitoring
Personalized medicine
Oncology research
Optimizing pharmaceutical development
Language : English
Format : Secured PDF
Number of page : 127 pages

| Analyst : Ance Petre, 23 Consulting
All contents of Service are the exclusive intellectual property of Techtomed SAS including trademarks, copyrights or any other form of intellectual property.  Terms of a license provided by Company are governed by the Purchase and Licensing Agreement below.
Service licenses are designed to regulate readership and distribution rights.
The purchase of a single user license grants access to a specific report for one person only and must not be shared with other employees within the same company. Option A is available for industries and large companies (more than 50 employees). Option B concerns only start-up companies, SMEs (less than 50 employees) and public institutions.
For an extended license (multiple users, within the same department or company) or any other related specific requirement, please contact us at contact@techtomed.com
The report will be delivered to you online/by email in a secured PDF format within 24 hours of receipt of the completed and signed purchase order form.
Refund Policy : Please read all the available information about any report before placing your order. Due to the confidential nature of the information contained in our reports, cancellation of orders cannot be accepted after the report has been delivered.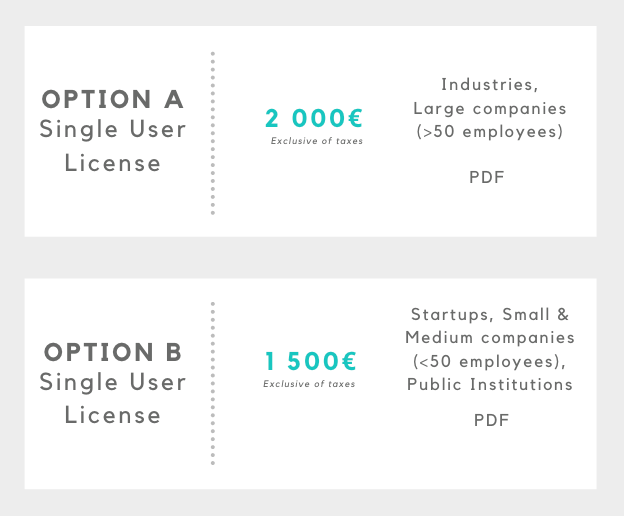 For an extended license (multiple users, within the same department or company) or any other related services, please Contact us.
u
Contact us now to receive a free extract from the first report of La collection HealthTech by TechToMed : « Key data sources, an international benchmark »